05/11/09 - Seun Kuti & Egypt 80 at the NIGERIAN MUSIC FEST in Lagos on November 21st 2009
The 2009 MTN Nigreian Music Fest will be held at the Ocean View Plaza, Victoria Island, Lagos November 21, 2009.

List (not hexaustive) of participating artists: Sir Victor Uwaifo, Sir Shina Peters, Pa Fatai Rolling Dollar, Christy Essien Igbokwe, Raskimono, Chief Ebenezer Obey, Oritz wiliki, Blakky and a host of the younger stars like Faze, Olu Maintain, Weird MC, Timai, Duncan Mighty, DJ Zeeza, J. Martins, African China, Danfo Drivers, Bracket, Iyanya and Seun Kuti.
Facebook : http://en-gb.facebook.com/event.php?eid=165702784486&ref=mf
Official link : http://www.nigeriamusicfest.com/category/artists/
05/11/09 - Seun Kuti & Egypt 80 will be at the HIGH VIBES FESTIVAL in Ghana on November 14th 2009
The first edition of the High Vibes Festival will take place in Accra, Ghana from 12 to 15 November 2009.

Seun Kuti & Egypt 80 will be performing :
14/11/2009 @ National Theatre. (8:00-11:30 PM)
15/11/2009 @ La Pleasure Beach. (12:00-6:00 PM)
More info : http://news.myjoyonline.com/entertainment/200911/37279.asp

11/10/09 - FELA mixtape by J.PERIOD & K'NAAN ~ free .zip download
10/10/09 - Seun Kuti & Egypt 80 live at TerraKulture OCTOBER 10th & NOVEMBER 14th 2009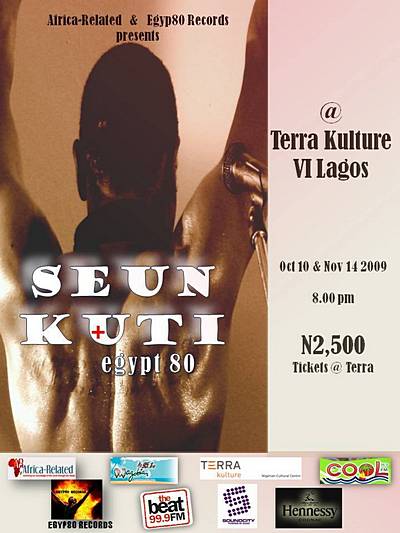 Link : http://www.terrakulture.com/home.html
10/10/09 - FELABRATION !
10/10//09 - Added Google Translation gadget so that users can automatically translate the page. (See above menus)
10/10/09 - New FELA KUTI album release on 27 October 2009 "Best Of The Black President "
New release by Knitting Factory Records featuring 13 of Fela's most popular tracks :

Track Listings :
Disc: 1
1. Lady
2. Shakara
3. Gentleman (Edit Version)
4. Water No Get Enemy (Edit Version)
5. Zombie
6. Sorrow Tears and Blood
7. No Agreement, Pt. 2



Disc: 2
1. Roforofo Fight
2. Shuffering and Shmiling, Pt. 2
3. Coffin for Head of State, Pt. 2
4. I T T, Pt. 2
5. Army Arrangement, Pt. 2
6. O.D.O.O. (Edit Version)



Amazon link : The Best of the Black President (Deluxe Version)
Amazon Product Description : Best Of The Black President compiles 13 of the most popular Fela compostions. The deluxe version includes a DVD featuring segments from 'Music Is The Weapon', the Berlin Jazz Festival, 'Teacher Don't Teach Me Nonesense', and interviews with Bill T. Jones and Carlos Moore.

Best Of The Black President signifies the rebirth of Knitting Factory Records. Earlier in 2009, KFR licensed the 45 album Fela Kuti catalog. Over the next 18 months, remasters of all the Fela CD's will be re-released in unique digi-paks with the original artwork. KFR will also re-release all the titles on vinyl for the first time in North America. Additionally, KFR will be giving the first official release to the entire Koola Lobitos catalogue--this was Fela's highlife band which he fronted through the 60's.
13/09/09 - New videos of the world tour in the videos page
13/09/09 - I added links to featurings by Seun Kuti on other artists projects , see the music page at the bottom.
27/07/09 - many new videos of the 2009 tour on the video page
20/07/09 - pictures of the London Jazz Club - 29 june 2009 : in the gallery
10/07/09 - Concert dates updated : 2 shows in Italiy (july) + Portugal (august) and Paris (september)
14/06/09 - Seun Kuti interview by Julio Punch during the concert in Nijmegen, Netherlands - 01/06/2009
| | |
| --- | --- |
| | This interview was kindly sent to us by Julio Punch and was conducted in Nijmegen during the Music Meeting festival on june 1st 2009. |
14/06/09 - 3 excellent videos of Seun Kuti & Egypt 80 live @ L'OPERA HOUSE DE Sydney le 12/06/2009
10/06/09 - 2 page comic strip illustrating the track "Many Things"
Done by Maurizio Ribichini : will be published in the italian music magazine "Il Mucchio Selvaggio" in the July 2009 issue.
Click on the image or go directly to the gallery.
These files are shared for free on condition that you mention the source and give credit as follows : [Maurizio Ribichini : http://www.maurizioribichini.it]
06/06/09 - New Album in preparation !!!
IMPORTANT NEWS

New album comming up !!! Seun Kuti & Egypt 80 are planning to go in the studio in September 2009. The new album should be out for the end of the year.
We have already heard 2 new songs during the latest shows (in France in May 2009) : one is called "For them Eye" and the other one is "You Can Run" . Both are excellent afrobeat songs like the rest of their repertoire.

03/06/2009 - Afrika Shrine club owned by FEMI KUTI has been closed down by authorities !!! + info on allaboutjazz
02/06/2009 - New Pictures of the european tour : in the galley and a video from the concert in Cergy Pontoise (FRANCE) bgelow or on the video page
Seun Kuti & Egypt 80 live @ L'Apostrophe in Cergy Pointoise, France, 27/05/2009
27/05/2009 Setlist :

01 Don't Give That Shit To Me (Egypt 80 alone : Showboy sings)
02 Army Arrangement (Fela cover)
03 Na Oil
04 For Them eye (new song)
05 You Can Run (new song)
06 Think Africa
07 Many Things
08 Mosquito Song
09 Fire Dance (encore)

Excellent show (as usual)

They started around 8:30 and finished around 10:00

25/05/09 - Pictures of the european tour that just started : two very nice pics of SEUN during the concert in Spain, Galaicia (Auditorio de Pontevedra) on may 23rd : see the Flickr page of Duck Jameson
27/04/09 - Concert dates update on The Myspace Profile
27/04/09 - One month to go before the concert at L'apostrophe .:: le 27 may 2009 ::. there's still a few seats availlable
See the press file: here ; l'Apostrophe website : http://www.lapostrophe.net/?spectacles/28 .
And a link to "fnac spectacles" : here
09/04/09 - Seun Kuti & Egypt 80 to play at the CORBAK Festival'09 in Switzerland, may 30th 2009
+ info : here
08/04/09 - Seun Kuti & Fela's Egypt 80 play the festival JAZZ à la VILLETTE form 01st to 13th september 2009
8/04/09 - Support "Afrobeat fanatics !" by joining - a cause by Seun Kuti & Egypt 80's manager - on Facebook : here
06/04/09 - Seun Kuti & Fela's Egypt 80 to play the GLASTONBURY festival 2009
Glastonbury Festival 2009 will be held from Wednesday 24th to Sunday 28th June 2009
Confirmed line up : ici - Lily Allen, Fleet Foxes, Neil Young, Blur, Bruce Springsteen, Emiliana Torrini, Doves, Franz Ferdinand, The Ting Tings, Echo And The Bunnymen, White Lies and Florence And The Machine & more.
02/04/2009 - New concert dates posted on the official Myspace profile :
20 mai 2009 20:00 Sala Joy Eslava - Madrid / Spain
22 mai 2009 20:00 Festival Territorios - Sevilla / Spain
23 mai 2009 20:00 Auditorio de Pontevedra - Galicia / Spain
27 mai 2009 20:00 L'Apostrophe - Cergy / France
29 mai 2009 20:00 Salle André Malraux - Six Four /France
30 mai 2009 20:00 Festival Corbak - La Chaux du Milieu / Switzerland
31 mai 2009 20:00 Afro-Pfingsten Festival -Winterthur / Switzerland
1 juin 2009 20:00 Music Meeting Festival - Nijmegen / Nederlands
01/04/2009 - Seun Kuti & Egypt 80 are programmed during the FUJI ROCK FESTIVAL'09 July 24(Fri), 25(Sat), 26(Sun) 2009 - Naeba Ski Resort, Yuzawa-machi, Niigata, JAPAN
Now you can easly share this fan-site with your friends with a click on this button :
Seun Kuti & Egypt 80 in concert in Oslo during the OYA festival, august 13th 2009
Annoncement for a concert in France on june 27th 2009
Seun Kuti & Egypt 80 concert in Vienna, july 06 2009
Part of the north american tour is cancelled :(
Seun Kuti & Egypt 80 had to cancel the north american tour spring 09 for economical reasons due to the credit crunch !

04/03/2009
Live video of the Dakar show -27 february 2009
ATTENTION : Date change for the Paris show at l'Apostrophe in Pontoise : it is not may 26th as previously scheduled, the new date is may 27th
Rencontrez Seun Kuti & Egypt 80 : documentaires, interviews, extraits de repet et de concerts ...
Pictures of the show in Bamako, MALI (07 feb 2009)
Pictures of Seun Kuti & Egypt 80 live in concert at the Blonba in Bamako, MALI on february 7th 2009

Location : Blonba in Faladié

Photograph : Squarzoni Caroline

Link to the picture page : Gallery

09/02/2009
Seun Kuti & Egypt 80 in concert in St- Louis of SENEGAL February 24th 2009
Seun Kuti & Egypt 80 concert in Kinshasa, RDC (ZAIRE) February 4th 2009
Seun Kuti & Egypt 80 concert in Bamako, MALI February 7th 2009
Seun Kuti & Egypt 80 concert in Six-Fours, FRANCE, May 29th 2009
SEUN KUTI at WOMAD, March 7th & 14th 2009
CONCERT DATES UPDATE ON THE OFFICIAL SEUN KUTI "MySpace" PROFILE
Jan 28 2009 Cotonou, Benin
Jan 31 2009 Brazzaville, Congo
Feb 04 2009 Kinshasa, Congo DRC
Feb 07 2009 Bamako, Mali
Feb 11 2009 Ouagadougou, Burkina Faso
Feb 14 2009 Niamey, Niger
Feb 17 2009 Accra, Ghana
Feb 20 2009 Kano, Nigeria
Feb 24 2009 Saint-Louis, Senegal
Feb 26 2009 Dakar, Senegal
Feb 28 2009 Conakry, Guinea
Mar 07 2009 Womadelaide Festival, Adelaide, Australia
Mar 14 2009 Womad Festival, New Plymouth, New Zealand
Mar 19 2009 Torino, Italy
Mar 20 2009 Milano, Italy
Mar 21 2009 Firenze, Italy

20/01/2009
Movie about FELA ... soon come ?
Reuters : updated 11:58 p.m. ET Jan. 14, 2009
"PARK CITY, Utah (Hollywood Reporter) - Focus Features is developing a biopic about Fela Kuti, the late Nigerian musician and political maverick.

The studio has acquired the book "Fela: The Life and Times of an African Musical Icon" by Michael Veal as source material.

Kuti, whose full name was Fela Anikulapo-Kuti, garnered fame in the U.S. for his fusion style of music known as Afrobeat. He often was imprisoned on what human-rights groups called trumped-up charges when he went back to his native country and spoke out against its government and policies. He died in 1997."

19/01/2009
Seun Kuti on the cover page of ALARM magazine #33
Seun Kuti is on the cover page of ALARM magazine #33


"ALARM Magazine is published six times a year. From our headquarters in a small Chicago office, along with a cast of contributing writers spread across the country..."
Link : http://www.alarmpress.com/about-2/

16/01/2009
Seun Kuti article in PUNCH
"Seun Kuti comes of age"
By Ayeni Adekunle
Published: Friday, 16 Jan 2009

"...As early as 1998, Seun had teamed up with Tee Mac to begin work on a solo project. He also left for London, where he studied Music. Soon, he was joining Egypt 80 band leader, Baba Ani to re-engage Fela's band. Soon he was touring world cities, rocking the mic and giving a new voice to some of Fela's strongest hits..."

16/01/2009
Seun Kuti & Egypt 80 live in Cotonou, BENIN on January 28th 2009
Seun Kuti & Egypt 80 will be playing live at the CCF in Cotonou, BENIN on january 28th 2009 at 9:30PM

CCF Cotonou - théâtre de verdure
Info : CCF cotonou

Centre Culturel Français de Cotonou
01 BP 416 Cotonou, Bénin
secretariat@ccfcotonou.net ; graphiste@ccfcotonou.net ; animateur@ccfcotonou.net
tél (229) 21 30 08 56 ou 21 30 74 79 ; fax (229) 21 30 11 51

15/01/2009
Seun Kuti & Egypt 80 in concert in Firenze, ITALIA on February 21st 2009
Seun Kuti & Egypt 80 will be playing live at the FLOG Auditorium in Firenze, ITALIA on febuary 21st 2009 at 9PM, cost : 18€15 (F.L.O.G = Fondazione Lavoratori Officine Galileo)

FLOG Auditorium
Via Mercati Michele, 24/B
50139 Firenze (FI), Italy
+39 055 487145
Info : http://www.flog.it

Reservation : http://www.boxol.it/Dettaglio-Evento.aspx?E=10545

BOX OFFICE tel. 055210804 : www.boxol.it

14/01/2009
Seun Kuti & Egypt 80 in concert in DAKAR (SENEGAL) Febuary 27th 2009
Seun Kuti interview in The Nation
A long interview of Seun Kuti in the nigerian newspaper The Nation

By Edozie Udezein
Published: Friday, 01 Nov 2009

"...Last year, I was the hardest working Nigerian artiste. Last year too, in summer alone, we did about 48 gigs and that was real cool..."

11/01/2009
Photos of the sold-out Cargo London show 14/12/08
Behind the scenes and onstage at the Seun Kuti & Fela's Egypt 80 dynamic sold-out shows at London's Cargo 14-15/12/08.

Photo journal by Liz Johnson-ArturSome very nice pics of the London show on kspacetv flicker gallery

26/12/2008

Lots of nice pictures of the Cargo show on Flikr

11/01/2009
Buy the music video "MANY THINGS"
"Seun Kuti rocks Nobel concert"
Seun Kuti & Egypt 80 live at the Nobel Peace Prize Concert on december 11th in Oslo, Norway - Great video, great sound and as always great performance:

AFROBEAT RULES :D
"Seun Kuti delivers five star performance at the Nobel Concert"
Seun Kuti at the MTV Africa Music Awards, 22/11/2008 !!!
Seun Kuti in Norway, 11/12/2008
Seun Kuti & Fela's Egypt 80 en concert, Dec 11 2008 8:00P
Nobel Prize Celebration Oslo, Norway

Thursday 11 December in Oslo Spektrum Arena at 20:00

On the evening of 11 December artists from all over the world will be gathering at the Oslo Spektrum to help spread the message of peace and celebrate this year's Nobel Peace Prize laureates.

Press Realease : 15th annual Nobel Peace Prize Concert

Location:
Sonja Henies plass 2, Code postal: 0185, Oslo, Web: www.oslospektrum.no
Service de billletterie, Tél: 815 33 133,
Réservation de billets Tél: 815 11 211, Fax: 22 05 29 40
Contact Tél: 22 05 29 00, Fax: 22 05 29 05
spektrum@oslospektrum.no

Saturday, November 29, 2008 - Seun Kuti Rocks Afrika Shrine Tonight
Back From World Tour Seun Kuti Rocks Afrika Shrine

The Guardian - Nigerian Newspaper : "...The show, according to the Afrobeat crown prince, would be his first major concert in Nigeria after his long playing and promotional tour of Europe and the United States. ..."
The 1st video of Seun Kuti & Egypt 80 on Youtube
Seun Kuti in Paris, 26/05/2009
Seun Kuti & Fela's Egypt 80 live in Paris

Tuesday May 26th 2009, 20h30 at the L'Apostrophe - Théatre des Louvrais, Pontoise, France

L'Apostrophe - Théâtre des Louvrais
Place de la Paix, 95000 Pontoise, France
tel. 01 34 20 14 25
fax. 01 34 20 14 20
Musique du monde
20h30 - 24/18€

Info : http://lapostrophe.internotron.net & http://www.musiquesdumonde.fr
Seun Kuti in London, 14 & 15/12/2008
Femi Kuti new album, 20/10/2008
New album "DAY BY DAY" by Femi Kuti, Seun's older brother :

Dates de sortie :

OCTOBER 20th (International)
OCTOBER 27th (France)
NOVEMBER 18th (US)
Fela Aniukulapo Kuti's 70th Birthday Anniversary, 15/10/2008
On october 15th 2008 it was FELA's 70th birthday anniversary. FELA Anikulapo KUTI is Seun's father and the creator of AFROBEAT.

On that day Seun Kuti & Egypt 80 performed a great show at the Chabada in Angers (France),here are some photos and a video from that special evening.
FELA LIVES
through his music and his familly : Seun, Femi, Moturayo, Egypt 80 and many more ...
15 OCTOBER 2008 - 70th Birthday Anniversary!
TRANSLATE